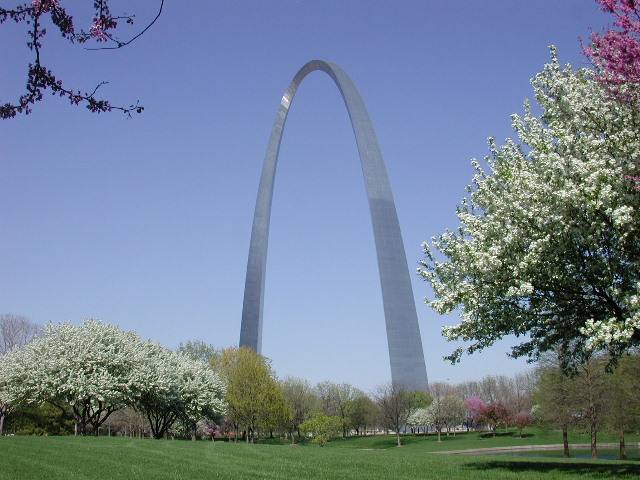 Missouri, the state with half a McDonald's arch as its icon, a state with resplendent but dying memories of Harry Truman, the Jazz Age, Joseph Pulitzer's St. Louis Dispatch, the birth of T.S. Eliot and his literary descendant, Nelly.

Missouri, the state that's halftime for the tornadoes that sweep from Oklahoma into Illinois, a border frontier with an identity crisis stretching back to the Civil War when it was said "The devil came to the border, liked it, and decided to stay awhile." A historic bellweather that's voted for the presidential winner all but three times this century, and an intersection of southern accents and that friendly but pugilistic Midwestern spirit that often seems pining for a fight, but only at a bar, where you also laugh.

Now that you know everything else about Missouri, let's get to the state's politics (oh, Albert Pujols, too, you should know about him, too, except not as much anymore).

Bluntly, Mitt Romney should win Missouri.

In 2008, Missouri was the closest state in the country. John McCain won by only 3,903 votes out of 2.9 million cast. If you just said to yourself "Wow, that sounds like a 49.4% to 49.3% victory", you're right. That's close.

But there are clues all over that suggest Obama won't do that well again.

The first smoking gun is his approval rating, which according to PPP, stood at -5% in February and barely cracked 45%. That's bad news for an incumbent, especially one who lost the state in 2008.

Another footprint comes in the form of head-to-head numbers with Romney.

In Rasmussen's two, most recent polls of the state (March and April), Mitt led by 9% and 3%, respectively.

The most favorable poll for Obama in the last year comes from a January survey by PPP, which showed them tied, 45%-45%.

But don't let the tie fool you. Romney's favorable rating was -24%, but he still managed the deadlock. That fav rating will improve, and if he's tied with Obama with that kind of number, he's in good shape.

Further, to show just how poorly Obama performs, he couldn't even crack 50% against Newt Gingrich – while Newt's favorability rating was -30%!

But beyond the polls, let's dig a little deeper and travel to key state counties to get a better look at the state's makeup.

We'll get a special introduction to each important county from the state's two biggest literary giants -- T.S. Eliot and Nelly.


JEFFERSON COUNTY: 103,000 votes in 2008. Obama 50% McCain 48%.

"I have measured out my life with coffee spoons." – T.S. Eliot from "The Love Song of J. Alfred Prufrock."

If Eliot had written a poem about the political implications of Jefferson County, he would have written "I have measured out these precincts/ and found that the difference between the GOP nominee and Democratic nominee in presidential elections is so small/ that you could measure it with coffee spoons."

But he'd make it rhyme or do meter or whatever.

Jefferson County is a southern suburb of St. Louis, 96% white, and heavily Democratic at the local level. To wit: all thirteen elective offices at the local levels are held by Democrats, all seven state house seats are controlled by Democrats, and I suspect even the squirrels call themselves proud Democrats in the tradition of FDR and Truman.

Yet despite those massive Democratic advantages at the local level, Jefferson County was close in 2008 when Obama nipped McCain, 50%-48%. In 2004, it was even closer with Bush beating Kerry by 600 votes.

So what's going on with the mass cognitive dissonance that seems to be swirling around the county… Is this a Michel Gondry movie or actually Missouri? (Incidentally, that sounds like a fun game. "Michel Gondry movie… or…. Missouri?").

Well, one possibility is that Jefferson tends to be more socially conservative but fiscally liberal.

Thus, social issues that are generally more salient at the national level counterbalance constituents' tendencies to vote for the more populist Democratic party at the local level. That makes some sense even though it doesn't really make sense (you could apply that sentence to the frightfully capricious nature of about 15% of voters in America).

There's nothing to suggest Jefferson won't be close again.

Home prices have dipped just a touch from where they were in 2008 and unemployment is in the 9% range, which is where the rest of the state is. The state's popular governor, Democrat Jay Nixon, hails from Jefferson and could be a handy asset for the president.

One thing for junkies to note? The ethnic makeup.

At a national level, Obama is expected to underperform his 2008 numbers with whites, and the effect of that could be particularly acute in Jefferson, which is nearly all white.

Now how can we guess that Obama will struggle a little more with Jefferson County whites?

Well, in the '08 primary, Hillary zonked Obama by a 2:1 margin in Jefferson, which means that it was one of those counties that wasn't in love with Obama the minute he burst onto the scene but only got on board in November. These aren't wine and cheese Democrats. They're Hillary Democrats.

But that doesn't mean Romney will necessarily win these disillusioned Jeffersonians. This is still a Democratic district. Gore won here in 2000, and Clinton took Jefferson twice. That means George W. Bush was the only Republican to carry it in the last two decades.

That being said, Republican Roy Blunt beat Democrat Robin Carnahan in their 2010 Senatorial election by double-digits in Jefferson. Granted, it was a horrible year for Dems and Blunt was a strong candidate, but it showed that Jefferson continues to be an open, if not outright favorable, county to Republicans.

If Obama is going to have a shot at carrying the state this time, he has to hold Jefferson.

So expect both campaigns to watch this one very closely over the next six months.


ST. CHARLES COUNTY = 186,000 votes in 2008. McCain 54% Obama 44%

"I'm goin' down, down baby, yo' street in a Range Rover, street sweeper baby." -- Nelly, "Country Grammar."

If you wanted to find a Range Rover in Missouri, you'd head north of St. Louis to St. Charles County, which is the richest county in the state and third largest.

John McCain won it by a solid 54%-44%, but Obama made it 8% closer in '08 than John Kerry did in '04.

The question is whether Obama overperformed because the county got more Democratic OR because they just liked Obama so much that one year.

I think it's the latter, which is bad for Obama and good for Mitt.

To wit: all eight state representatives from St. Charles County are Republican (they include such fantastic names as "Funderburk" and "Gatschneberger", which sound like watches that ace German pilots would wear in World War I). Its congressional representative is Republican, and Roy Blunt beat Robin Carnahan, 59%-35%, in their 2010 Senate race.

Romney won't win by as much as Blunt, but this is still a very Republican district.

If Romney can win by more than 10%, he'll have outperformed McCain, and in theory, that seems very doable.

Obama is far weaker than in 2008, and Romney should have stronger appeal to the more affluent than McCain.


JACKSON COUNTY, home of Kansas City and 330,000 votes. Obama 62% McCain 37%

"Let us go then, you and I, when the evening is spread out against the sky." – TS Eliot from "The Love Song of J. Alfred Prufrock."

That line opens Eliot's classic love poem, and there's no better place to love your beloved than in Kansas City.

Reportedly, Kansas City has "more miles of boulevard than Paris and more fountains than any city except Rome."

So -- if you've already gone to France or Italy for your honeymoon, sorry, you got PWNED. If you haven't gone on your honeymoon, here are some Kansas City options for you -- the local Knights Inn, the KC Trip Advisor, and tickets for the KC opera house.

Moving from love to war.

A significant chunk of Kansas City is in Jackson County, but Jackson is more than just KC, and often, the county is divided into two parts when people talk about it – Kansas City itself (hugely Democratic) and the areas outside Kansas City (hugely split).

Obama won the county, 62%-37%, thanks to a massive margin in KC, but in the areas of Jackson outside of Kansas City, McCain won by 1.1%.

In other words, the more suburban area of Jackson County is a whole lot like Jefferson County, and both are microcosms of the state.

If things shift markedly toward a candidate in one county, there's probably something afoot in the state at-large.

There are over 300,000 votes available in Jackson County. If Obama can hit 60%, overall, he's in good shape, and it's very doable. In 2010's Senate election – a year that favored Republicans – Democrat Robin Carnahan picked up about 58% of the vote in Jackson, even while getting bludgeoned state-wide. If Carnahan could do that in a horrible year for Democrats, Obama should be able to hit his 60% mark this time.

Shifting gears a bit, it's really impossible to let this lie before we leave this county.

Joseph Smith believed that the Garden of Eden was in Jackson County and that it will be the site of the New Jerusalem in the latter days.

Now let's delve more deeply into the political implications of… well, maybe not. Let's return to safer topics like the fact that the ice cream cone was invented at the St. Louis World's Fair in 1904 (Fireworks were still invented in China, though).


ST. LOUIS COUNTY = 544,000 votes in 2008. Obama 60% McCain 40%

"I'm from the home of The Red Foxx, Ced the Entertainer, jetting off with Brian Cox, I'll see you later/maybe not/ 'cause I got something in the Navigator/Waiting in the parking lot." -- Nelly from "St. Louie."

The biggest county in the state.

554,000 souls voted on election day in 2008, and 60% of them cast their fortunes with Obama.

It's also the economic center of the state, and nearly one million souls live there (Cut me some slack with the "souls" thing. My wife and I just saw Titanic in 3D, and that's the official metric people used to quantify the dead back then, and I'm sort of feeling retro).

Now, don't confuse St. Louis county with St. Louis City. The city itself is heavily Democratic (Obama won by almost 70%), but the county is more competitive, although it seems to be getting less so.

In 2000, Gore won by just 5%, Kerry won by 9% in 2004, and Obama won by 20% in 2012.

Obviously, Obama had a lot of Obama-y things going for him in '08, but those are big Democratic gains from cycle-to-cycle, and shows this isn't a candidate-specific phenomenon.

And there's reason to think Obama will rock the county again.

First, unlike Jefferson County Democrats who vastly preferred Hillary to Obama in the '08 primary and grudgingly came around to Obama in the general, St. Louis County has always been Obama territory. He beat Hillary by nearly 30% in the '08 primary.

That's not surprising. St. Louis County is fairly affluent and urban, and Obama's gain in territories like that all over the county were significant. The question, then, is whether Romney can cut into Obama's lead in counties like this (and all over the country). This is supposed to be where Mitt's electability advantage over guys like Santorum will show up.

But it's going to be tough for Mitt to do much better than 40%. Let's take a look at the 2010 Senate election, which again, favored the Republican for numerous reasons.

In a really bad environment, the Democrat, Robin Carnahan, still won by the county by 8%, while, state-wide, she lost by about 14%. That means this is a very strongly Democratic county where an awful Democratic candidate in a Republican year still won by a lot.

This is Albert Pujols.




Okay, now that that's out of the way. Yes, St. Louis County.

This will be about survival for Romney, and the biggest question of all: Can this patrician and well-haired Bear Grylls hit 40% in this county?


GREENE COUNTY = 135,000 votes and home of Springfield. McCain 57% Obama 41%

"We are the hollow men/We are the stuffed men/Leaning together/Headpiece filled with straw." -- T.S. Eliot from "The Hollow Men."

Eliot was clearly inspired to write those lines because he was writing about the straw-stuffed scarecrows that are common in southwestern Missouri, which has lots of farming. Now give me my PhD.

Greene County houses Springfield, Missouri, and I chose this county for the big five because it's in a heavily Republican area that's fairly representative of that region of the state.

All thirteen, locally held offices in Greene belong to Republicans, the elephants control seven of eight state house seats in the county, and John McCain won by 16%.

The key question in both Greene and southwestern Missouri is whether Romney can turn out evangelicals and cultural conservatives. This is Bible belt territory, and we all know about Romney's fraught relationship with evangelicals.

Oh, he'll win them by handy margins, but how many votes can he coax from these folks?

In 2000, Bush won 59,000 votes in Greene. Four years later, he won 77,000, and four years later, McCain also won 77,000. That being said, McCain's percentage fell against Obama by 9%, even though he handily won.

Can Romney return to the 25% margins Bush racked up against Kerry and, if so, can he do it with strong turnout that can bolster his raw numbers?

So, where are we? If you haven't been to Missouri, it's a beautiful state. Growing up, my family and I took sprawling summer road trips, and when you come from the West to the East, you notice a change in Missouri -- there's lushness, humidity, and a pregnant excitement about the possibilities ahead. There are also lots of mobile homes with meth labs.

Okay, guys. This is the first of a series of battleground guides that I'll be rolling out throughout the course of the general election.

Two that will not make the battleground guide -- California and Agincourt. Hope you enjoy...